State By State List of Creative Writing MFA Programs
By Fall 2005, story workshopping occurred in the US in over 100 MFA programs and in more than 600 other creative writing programs – an explosion to nearly 800 degree conferring creative writing programs (along with hundreds of conferences and seminars) – up from merely 80 such programs in 1975. What is the MFA experience like? Read up on one such experience in the novel

TEXAS MFA.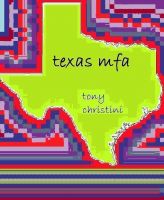 TEXAS MFA
portrays Texas, a peculiar MFA workshop, and the making of novels of social change – a novel somewhat akin to Larry McMurtry's lively novel of a young writer in Texas: All My Friends are Going to be Strangers.
Alabama
University of Alabama – Tuscaloosa
Alaska
University of Alaska – Anchorage
University of Alaska – Fairbanks
Arizona
University of Arizona
Arizona State University
Arkansas
University of Arkansas
California
Antioch University – Los Angeles
California College of the Arts
California Institute of the Arts / CalArts
California State University – Fresno
California State University – Long Beach
Chapman University
Mills College – Poetry / Prose
Otis College of Art and Design
Saint Mary's College of California
San Diego State University
San Fransisco State University
San Jose State University
University of California – Irvine
University of California – Riverside
University of California – San Diego
University of San Francisco
University of Southern California
Colorado
Colorado State University
Naropa University
University of Colorado Boulder
District of Columbia
American University
Florida
Florida Atlantic University
Florida International University
Florida State University
University of Central Florida
University of Florida
University of Miami
University of South Florida
Georgia
Georgia College & State University
Georgia State University
University of Georgia
Idaho
Boise State University
University of Idaho
Illinois
Columbia College Chicago – poetry / Fiction
Northwestern University
Roosevelt University
School of the Art Institute of Chicago
Southern Illinois University – Carbondale
University of Illinois – Urbana-Champaign
Indiana
Indiana University
Purdue University
University of Notre Dame
Iowa
Iowa State University
University of Iowa – Fiction / Nonfiction
Kansas
University of Kansas
Wichita State University
Kentucky
Eastern Kentucky University
Murray State University
Spalding University
Louisiana
University of New Orleans
Louisiana State University
McNeese State University
Maine
University of Southern Maine (Stonecoast)
Maryland
Goucher College
Johns Hopkins University
University of Baltimore
University of Maryland
Massachussetts
Boston University
Emerson College
Lesley University
Pine Manor College
University of Massachusetts – Amherst
Michigan
Northern Michigan University
University of Michigan
Western Michigan University
Minnesota
Hamline University
Minnesota State University – Mankato
Minnesota State University – Moorhead
University of Minnesota
Mississippi
University of Mississippi
Missouri
University of Missouri – St. Louis
Washington University – St. Louis
Montana
University of Montana
Nebraska
University of Nebraska-Omaha
Nevada
University of Nevada – Las Vegas
New Hampshire
New England College
Southern New Hampshire University
University of New Hampshire
New Jersey
Drew University
Fairleigh Dickinson University
Rutgers University
New Mexico
New Mexico State University
University of New Mexico
New York
Adelphi University
Bard College
Brooklyn College
City College Of New York – CUNY
Columbia University School of the Arts
Cornell University
Hunter College – CUNY
The New SChool
Long Island University – Brooklyn
New York University
Queens College
Sarah Lawrence College
Stony Brook – Southampton
Syracuse University
North Carolina
North Carolina State University
Queens University of Charlotte
University of North Carolina – Greensboro
University of North Carolina – Wilmington
Warren Wilson College
Ashland University
Ohio
Bowling Green State University
Northeast Ohio Universities Consortium
Ohio State University

Oregon
Oregon State University
Pacific University
University of Oregon
Pennsylvania
Carlow University
Chatham University
Pennsylvania State University
Rosemont College
University of Pittsburgh
Wilkes University
Rhode Island
Brown University
Converse College
South Carolina
University of South Carolina
Tennessee
The University of Memphis
Vanderbilt University
Texas
Texas State University
University of Houston
University of Texas – Austin
University of Texas – El Paso
University of Texas – Pan American
Utah
University of Utah
Vermont
Bennington College
Goddard College
Vermont College of Fine Arts
Virginia
George Mason University
Hollins University
Old Dominion University
University of Virginia
Virginia Commonwealth University
Virginia Tech University
Washington
Eastern Washington University
Pacific Luthern University
Seattle Pacific University
University of Washington
Whidbey Writers Workshop
West Virginia
West Virginia University
Wisconsin
University of Wisconsin – Madison

Wyoming
University of Wyoming