"Caricature is an art, and not an easy one. But when well done, a very important one."  –Noam Chomsky
Noam Chomsky on Orwell, caricature, and thought control in societies:
About Orwell's 1984, I thought, frankly, it was one of his worst books. Could barely finish it. Some parts (e.g., about Newspeak) were clever. But most of it seemed to me — well, trivial. The problem is not a very interesting one; the modes of thought control and repression in totalitarian societies are fairly transparent. In fact, they often tend to be rather lax. Franco Spain, for example, didn't care much what people thought and said: the screams from the torture chamber in downtown Madrid were enough to keep the lid on. It's not too well known, but the Soviet Union was also pretty lax, particularly in the Brezhnev era. According to US government-Russian Research Center studies, Russians apparently had considerably wider access to a broad range of opinion and to dissident literature than Americans do, not because it is denied them but because propaganda is so much more effective here. Orwell was well aware of these issues. His (suppressed) introduction to Animal Farm, for example, deals explicitly with "literary censorship in England." To write about that topic would have been important, hard, and serious — and would have earned him the obloquy that attends departure from the rules.

Caricature can be very well done. Swift is marvelous, for example. Animal Farm is pretty good, in my opinion. But 1984 I thought was a serious decline from his best work.

Caricature is an art, and not an easy one. But when well done, a very important one. As for dealing with Orwell's problem,* I try to do it in the ways I know how to pursue; 1000s of pages by now. No doubt there are other ways, maybe better ways. But others will have to find what works for them.
*[Orwell's problem: how is it that oppressive ideological systems are able to] "instill beliefs that are firmly held and widely accepted although they are completely without foundation and often plainly at variance with the obvious facts about the world around us?"
___________________
See also: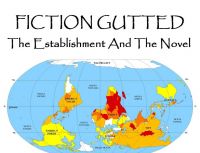 by  Tony Christini